We said it wouldn't happen at first, but with the availability of Animesh technology in SL, the playing field has changed. So we buckled down and worked on an all-new line of products, the first of which will shortly be available to you all.
We are proud to introduce the PsiCorp Animesh Canine Penis, the first of its kind by us, and certainly only one of many more to come.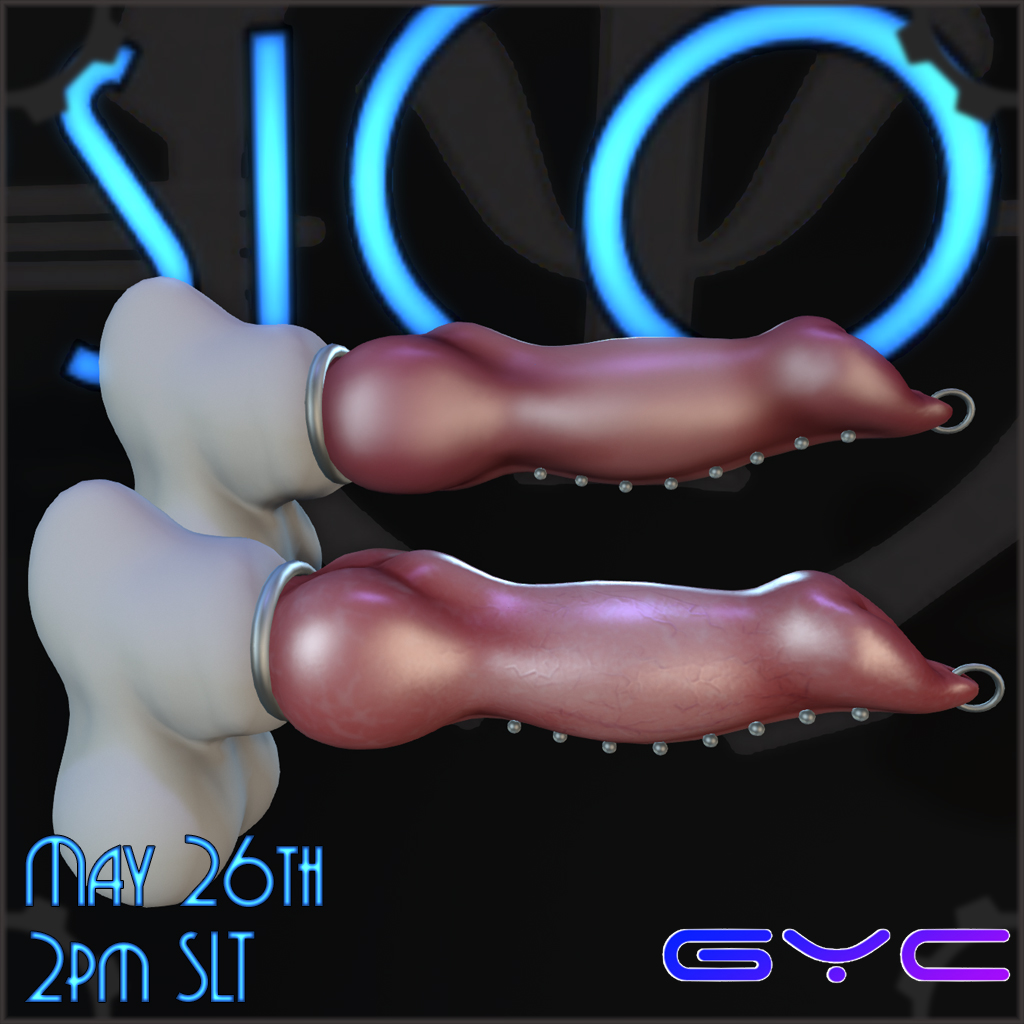 We decided to make as much use of this new tech as we could, as well as implement a host of features, of which you can read all about right here:
Over 75 animations power this new bit, allowing smooth state transitions and a variety of effects.
Make it throb, bounce, and sway. These bits feature an animated throb, various bounces to add motion during intercourse, as well as a nice sway as you walk or run.
Like to watch? Stroke yourself using one of two available jerkoff animations.
3-D cum effects of varying intensity, everything from a drop of pre creeping down the underside to a full blown cum-streaked length with dangling stands hanging from your length.
Six different size options, covering everyone from petite to outright macro sized, giving the size lovers ample possibilities as well.
Variable knot size. Rather than offering only one "tied" state, you can freely choose between a small, medium or large knot size for any state that has the knot on display.
A full, optional suite of piercings which may be customized in terms of style, colors, as well as material.
A broad range of states, including several raised variants for various angles of lovemaking, alongside several flopped positions for sitting and laying back.
A state-independent short toggle, allowing you to shorten any state you wish if you encounter clipping issues during sex.
A good variation of textures for both shaft and sheath, including a realistic, smooth, as well as latex texture set option for the shafts, making it easy to match it to many an avatar style.
A condom layer with filled tip option, alongside the proper dangling animations for such.
Redone particle effects. All effects were repainted by hand, and the particle parameters redone for higher quality effects.
Out-of-box compatibility with the "it's not mine" body cum system. Simply use the cum or cum inside effects to trigger the it's not mine menu on your partners.
Low resource use scripting. We rewrote almost all the scripting for these bits, taking only some cues from our v6.1 script base, ensuring these new bits run on less script time and memory than before.
A semi-universal HUD. Whilst the HUD will only accept animesh canine penises, it will also support vaginas and tailholes universally, as the current v6 bits HUD, so no need for multiple HUDs if you rock multiple bits.
Access to our PSD textures, making it easy for modders to create their own styles and apply them easily with our updated texture applier.
Now for the big question. What are these going to cost?
The standard version will cost 1200 L$
The deluxe version will cost 1500 L$
What is the deluxe version you ask? Simply the standard version, with the regular animesh bits HUD replaced with the animesh fertility HUD, so if you want access to the advanced breeding options that our insanely popular fertilty HUD offers, you can save 200 L$ by buying this combo pack, AND you get a one-HUD solution.
Last but not least, please keep in mind that these are being sold as an entirely new product line! We very much want to give people a choice between using animesh and classic mesh bits.
You won't have to wait very long either! Official release of these bits is on the 25th of May, so only a few days away! We'll be holding events at the following dates, times, and places:

Saturday the 25th of May – The Ark starting on 2pm SL time!
Sunday the 26thof May – GYC starting on 2pm SL time!
Make sure to come check it out, we'll be there showing off the new bits in person!