Major Animesh bits update released
As of this post, a major update has been released for all animesh genitals. This has been in the works since our latest release and was aimed at standardizing and improving the usability of the Animesh HUD in particular, as well as improvements to the Canine variants as well. To that end, we implemented the following features and updates: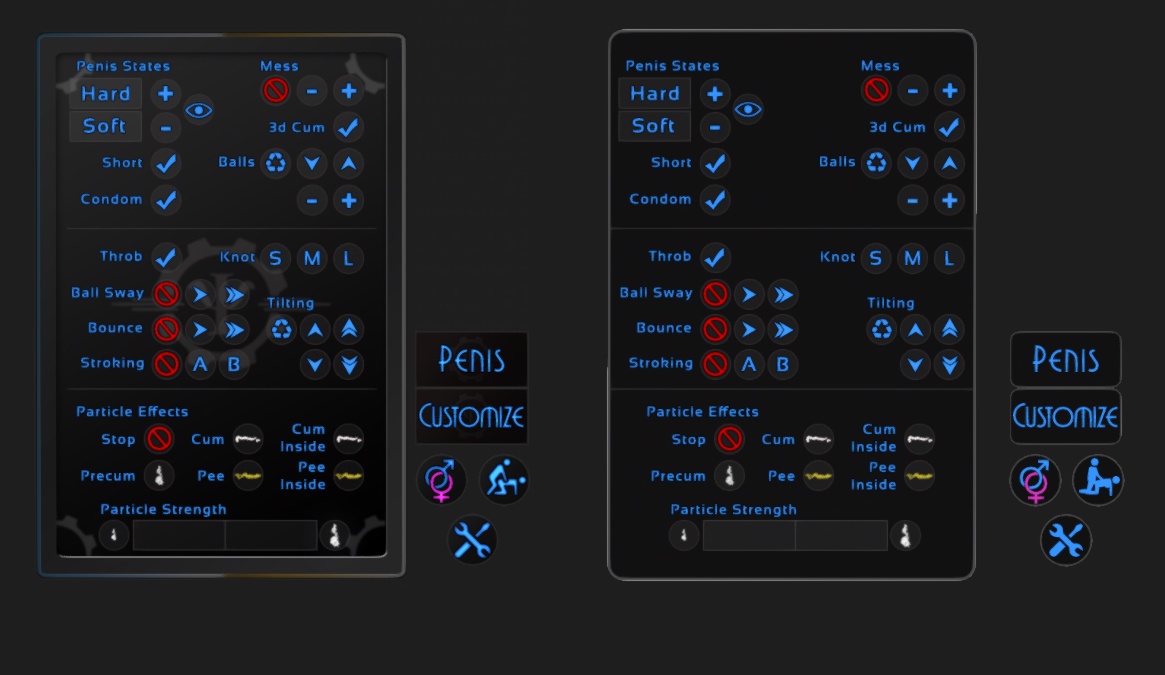 An all new visual style
This was one of the main things I wanted to address. To clean up the old, often cluttered looking HUD graphics, and to develop a new, much cleaner style for the user interface, with more clearly laid out buttons and more easily understandable graphics. This also involved touching up on the vagina/tailhole pages, which hadn't seen any visual changes in a long time, and still used an even older visual style. Furthermore, we cleaned up some unused buttons, as well as changed some button graphics to be more consistent with their function, and in some cases added some help text – in particular to the scaling buttons, which don't serve any function on animesh penises, but still do function for vagina/tailhole attachments.
One-for all HUD
This has been a goal of mine for as long as the animesh series existed, finding ways to merge all the various species-centric HUDs into one. A way forward has been found, and as of this release, species-centric animesh HUDs/Fertility HUDs are a thing of the past. Please note that the animesh HUDs do NOT work with v6.x bits and vice versa. Also keep in mind that the new HUD will also ONLY work with current, updated animesh genitals. It will NOT work with any animesh genitals dated before today, you must update in order to use them with the new HUD.
New animations
The poseball system by now was quite old, so it too has been redone virtually from the ground up. The dialog menus have been rewritten and reformatted, alongside a current-day pose adjust menu. I also rewrote the way animations play, eliminating the animation permission dialog upon sitting on the poseballs, and dropping a script from the HUD in the process. Most notably, we replaced ALL animations with two dozen new adult animations by ::R:a:W:a:G:e::, as well as several cuddles by [Polymorph].
Less memory use, more stability
Due to the extensive rewrites done to virtually every bit of code, the new memory footprint is about 15% lower than before, which means a respectable 50kb of script memory savings. It also runs on one less script than before due to improvements on the poseball control system. Furthermore, merging and rearranging script code, as well as removing old code for now unsupported items – more down below – should also ensure a much more robust setup, and out-of-memory crashes in the main HUD systems should now no longer occur.
Canine improvements
As part of this update, the animesh canine bits, being the oldest, also saw some TLC. Most notably, many of the animations got a bit of a polish pass, making them more detailed and fluid in places. Some minor rigging issues also got resolved, as well as a minor hard edge on certain knot sizes having been removed. Material settings got some small tweaks as well, making the flesh overall glossier.
Pulling support for 6.x breasts
Also as part of this update, we are discontinuing the old 6.x breasts line. The product has not seen any changes in years, and with mesh bodies being a reality for years now, has seen very low demand. Additionally, the lack of Omega support or any modern tech in them has often left customers with products that don't tie in with their items properly. Thus I made the decision to pull those products from sale. This does not affect you if you already own them, however new purchases will no longer be available.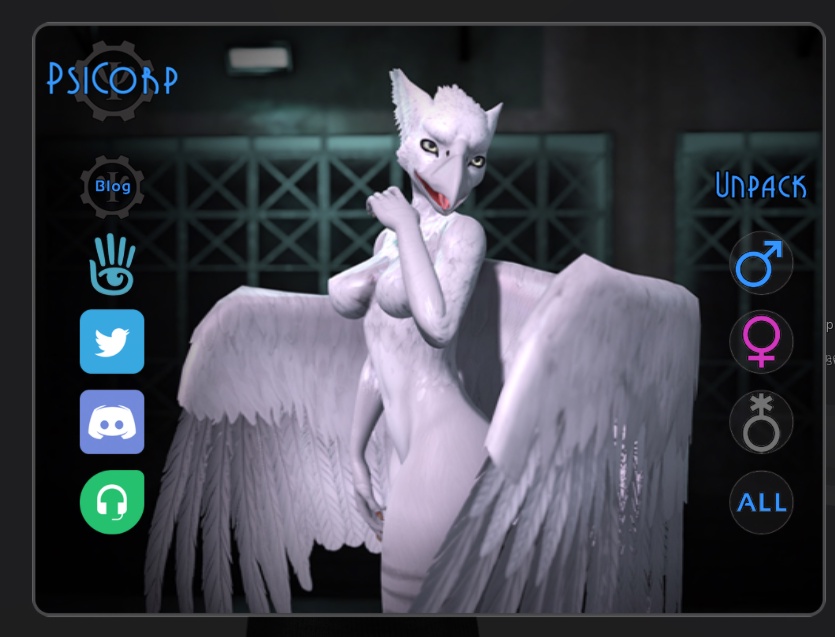 Unpackers
Another major change implemented as of this post is unpackers for all new releases, including the updated animesh bits. We bid farewell to the rezable product boxes we used to have, and now introduce new, wearable unpacker HUDs. They'll present you with a range of options, offering 1-click unpack for anything from bits to avatars, giving you direct access to the unpacker's gender selection, as well as providing direct access to our blog, SL group, discord server, twitter and helpdesk links. This means you now can finally unpack even in no-rez areas without any hassle, as well as access all of our community and support sites directly.
Bugs and issues
This was a MAJOR undertaking for me, a great many lines of code changed, and significant changes were made all over the place, ontop of the new unpackers etc. If you find any issues with the new systems, please do report them on our helpdesk, found at psicorp.freshdesk.com or via the link in the new unpackers. We did a lot of testing, but it's likely we didn't catch it all with something this complex, so please do report any issues so they can be resolved!
The future
What is in store next? Broadly speaking, more animesh bits are coming up next, WIPs will be posted in our discord. Beyond that, another awesome avatar collaboration with Raptordog is planned, as well as a similar update and standardization project for our recent avatars (wolf/fox and newer). Stay tuned for details on this one, it will be another larger undertaking, but it will bring all recent avatars onto a common level and improve many aspects of them, add new features, as well as address open issues.
As with all updates, redeliveries for existing customers are free. Simply visit any inworld store and find a redelivery terminal, or alternatively touch any vendor to access its menu. This also includes the fertility HUD box, which now only includes the 6.x series HUD as well as the animesh one, rather than the individual species HUDs